Fall Book Club & Coaching Circle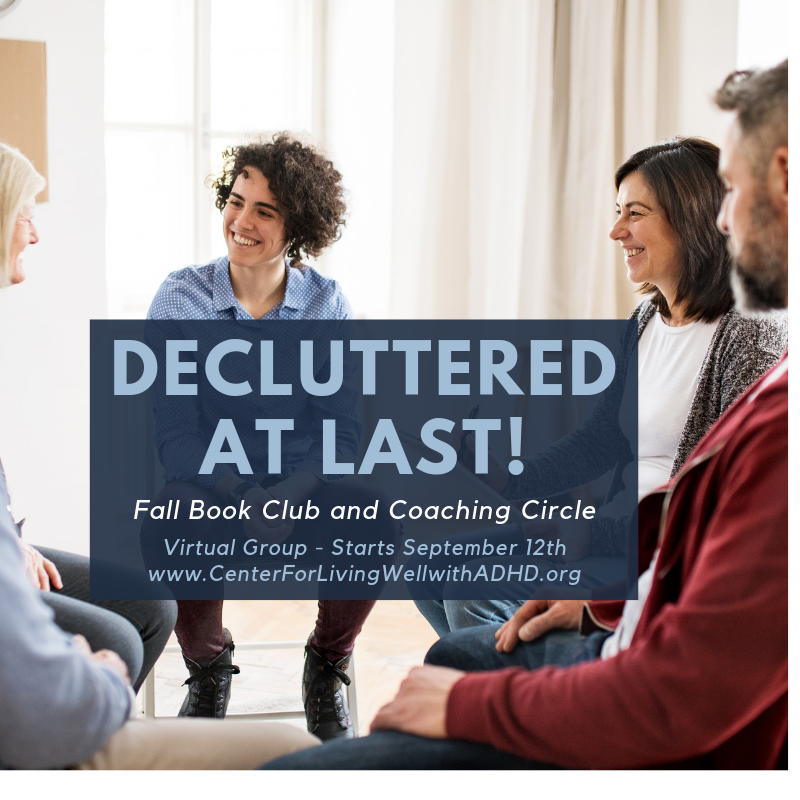 Thursday Evenings
September 12th - October 17th
Six Virtual Face to Face Meetings | 6:30 pm to 7:45 pm Central
Have you been aiming to declutter in your life for awhile but never seem to get around to it? Maybe you just don't have 'that kind of time' or you get stuck once you get started. Maybe you find yourself procrastinating or feeling overwhelmed and paralyzed on what to do next. Does any of this sound familiar:
"I get started only to get half finished, leaving a bigger mess than when I started"

"I am not sure where to begin or even how to start"

"My days are already full, how can I possibly commit to one more project"

"Just looking at the pile ups hurts my head"

"An even bigger challenge is my struggle to let stuff go"
Cutting through the clutter and living a simpler, more organized life when you have ADHD doesn't need to be an overwhelming or a monumentally difficult or tedious task.
Join us this fall for a Get-It-Done opportunity to deep dive together into what we have found to be an inspirational book while working on your decluttering goals. Receive coaching support from two experienced ADHD Coaches to help you set up reasonable decluttering goals and take next steps to get the clutter gone. Enjoy the opportunity of working with a group to support and cheer you on.
Featured Book:
Decluttering at the Speed of Life: Winning Your Never-Ending Battle with Stuff
Plus, Additional ADHD Friendly Organizing Resources and Coaching Support
Workshop Schedule
September 12th - Chapters 3 to 5
"Accepting your house as a container"
"Valuing space over stuff", and
"Making progress with the visibility rule"


October 3rd - Chapters 12 & 13
"Kitchen"
"Another Chapter About Kitchens"

September 19th - Chapters 6 to 9
"Understanding the Layers of a Clean House"
"Getting it Out or The Case for the Donate Box"
"Changing Your Mind-set Changes Your Home"
"Decluttering at the Speed of Life"



October 10th - Chapters 14 & 15
"Bedrooms""Closets and Clothes"

September 26th - Chapters 10 & 11
"Steps for Working Through an Overwhelming Mess"
"Living Areas"


October 17th - Chapters 16 & 17
"Craft Rooms and Hobby Spaces"
"Storage Spaces"

Each meeting, participants will have the opportunity identify their goal and action steps for the coming week, receive ADHD Coaching to help explore the strategies and approaches to support their success, and share what they took away from the book. Your enrollment includes:
Weekly Face to Face Group Sessions (held by virtual meeting)

Access to a private group to support one another between sessions

Access to private member site to receive support from your coach.

Coaching Handout and Resources to support our sessions
Ready to take on the clutter and have some fun?
Save Your Seat & Let's Work Together on
DeCluttered At Last!
Your Investment - Only $97