More Success Less Struggle Parent Coaching Program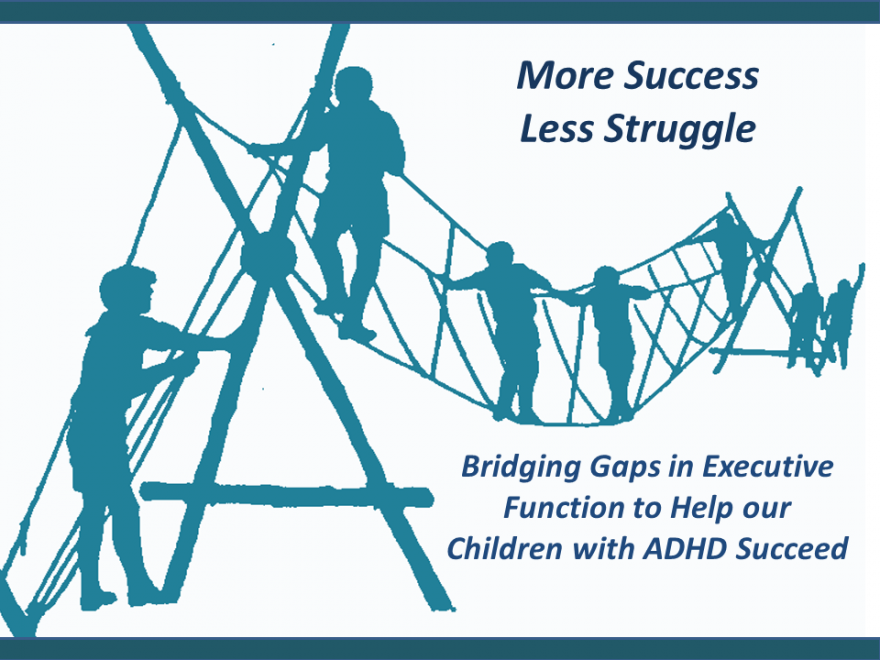 Bridging the Gaps in Executive Function Skill Capabilities to Help our Children with ADHD to Succeed
Our virtual coaching program is designed for parents, caregivers and even teachers who are interested in learning about a step by step approach to encourage, support and empower a child to experience more success and less struggle as a result of having ADHD.
While the major focus of our program is on executive function skill building, we provide a holistic approach on how to best support the child's personal growth and success in sustainable ways.
The program offers 8 fundamental lessons to help a child with ADHD. With each lesson, you will have the opportunities to experience coaching support and apply what is learned into actionable next steps to boost the child's success and resilience.
Overview of Course and Coaching Program:
Meets Sundays, October 7th through December 9th, 2018*
from 3:00 pm CT to 4:15 pm CT
* Skipping Nov 11th and Nov 25th.
Includes 8 Weekly Topics:
Lesson 1: Understanding the Bigger Picture:
In this introductory lesson, we focus on what it means to have ADHD. There are signs and symptoms of what we see on the surface which may lead to incorrect and damaging assumptions. Being aware of what lies under the surface, helps us to develop a better understanding and perspective about the struggle a child is going through. Developing understanding and awareness empowers parents, teachers and caregivers, as well as the child, to effectively manage their ADHD in the present and their future.
Lesson 2: Leveraging the Power of Strengths and Possibility
The most powerful place to begin for a child with ADHD is with their strengths. Many children are often encumbered and shut down by the daily struggles of ADHD. As a result, they lose the self-esteem, confidence and ability to believe what is possible. The reality is a child with ADHD may go throughout the day hearing a dozen things about what they have done wrong and very little if any about what they have done right. Hence the discouraged child. Their sense of self is diminished and they struggle to focus on their greatest asset, their strengths. In this lesson, we explore ways to 'shine the light on what is right' and spotlight and build more momentum around use of strengths and applying small successes to bigger goals and possibilities.
Lesson 3: Executive Function Skills Primer and Evaluation:
Learn about executive function and assess the child's executive function skill apabilities. Everyone with ADHD presents their own unique version of ADHD. The impact on executive functions will be different for each child based on their own unique set of challenges, developmental stage, strengths, and existing strategies developed in response to challenge. The survey activity, will participants understand what to focus on and learn more about the ADHD friendly approaches that can help boost executive function capabilities for the child.
Lesson 4: Designing the Child's Success Plan
After integrating the learning and activities from the first three lessons, it is time to identify a goal and design a plan to help the child get unstuck and experience more success. Success plans are focused on a specific goal, bridging and building on an executive function skill capability while applying strengths, strategies and support to help a child experience more success. Use this model as a way to approach and support the child with ADHD. Learn
Lesson 5: Implementing the Child's Success Plan
Having a plan is a great start. Now its time to put the plan that has been designed into action. Understand how to effectively step in, support and then gradually fade away support to allow the child to take on more ownership and responsibility. Identify ADHD-friendly strategies and incorporate the ways a child is naturally Wired to WinTM. Help your child work on their skill development. Create the beginnings of a tool-box for success to support the child throughout their lifetime.
Lesson 6: Beyond Executive Function Skill Building - Part 1
Executive function skill building is not just about building skills. There are many underlying factors that will influence the child's ability to work on developing helpful skills and strategies. Part 1 covers the importance of emotional intelligence and stress management. The lesson includes how to help the child recognize their underlying emotions, signs of stress and find their own unique way of coping so they can continue to work on their goals and become more resilient. Apply what is learned in this lesson while working on the child's success plan.
Lesson 7: Beyond Executive Function Skill Building - Part 2
This lesson covers additional underlying factors that can become potential barriers for a child's success. Part 2 covers mindset and motivation, teaching self-advocacy and leveraging the power of an effective support team. Apply what is learned in this lesson while working on the child's success plan.
Lesson 8: Wrap Up and Conclusion
This lesson allows for Q&A and a recap of the key learnings from the course. Additional coaching will be focused on the unique needs of the group for support. Participants will continue to apply what they learn to the child's success plan and then rinse and repeat towards a new goal and executive function skill capability.
What's Included:
Get started right away with an Individual Start-Up Consultation by virtual meeting or telephone
Weekly lessons for supporting a child with ADHD and bridging gaps in executive function skill capabilities
Activities and follow up action steps for each lesson to apply what you learn
Downloadable handouts and worksheets for each lesson
Built in coaching support from our experienced coaches during your weekly sessions
Access to coaching support between sessions for through the private client portal and log posts.
Your opportunity to collaborate with a group of like minded parents experiencing similar challenges.
Lessons are recorded and available to replay in the event you miss a session.
Access to all course materials for 3 months after the program ends.
Enroll in our next 8 Week Group Coaching Program
Your investment: $597 when paying in full or $330.00 for 2 Payments
Click the best option below to enroll in the program.
Important to Note: Here at the Center we strongly believe in a collaborative approach for helping individuals with ADHD. Our online classes, workshops and coaching programs do not replace the need for medical or mental health care expertise, academic advising or neurological consultations and assessment. We can not diagnose, treat, counsel or make recommendations outside of the scope of our expertise or training. Instead, we prefer to work in collaboration with these highly specialized supports to make the most of our client's experience.
Need to contact us?
Got Questions? There are several ways to connect with us about this program.
Send our support team a message at WeCare@adhdcoach.life.
Email our Coaches directly: Robin@ADHDCoach.life | Kay@ADHDCoach.life | Kat@ADHDCoach.life
Go to our Coaches Meet Our Team Page and schedule a complimentary Get Acquainted Session with the coach of your choice.