Adult ADHD Group Coaching
Group Options Now Enrolling:


The College Success Squad:
Here is a group support option for college students. Receive coach support to get organized in the new semester. Learn new approaches to stay on top of assignments and getting out of stuck and overwhelm. Take advantage of our live get-it-done body double sessions to kickstart those assignments you might be procrastinating on. Collaborate with other college students with similar challenges and goals. Spring group starting up in January 2023. Email Kelly@ADHDcoach.life or Andrea@ADHDCoach.life to learn more.
Adulting with ADHD Small Group Coaching
This small group is geared to folks in their late 20s and 30s seeking ADHD-friendly approaches, support, and accountability for managing their ADHD. It is ideal for those who are newly diagnosed or just getting around to seriously addressing their ADHD. The group covers important foundational topics for understanding and managing ADHD. Sessions are a combination of learning, coaching, and group collaboration with built-in support and accountability.
MoneyCalm
In this group, you will have the opportunity to simplify your finances, develop a full picture of where your money is and where it goes, receive support and accountability for paying bills/following through, and understand how ADHD shows up in money management. Take action on your money management goals during group time.
Click here to learn more and save your spot!
Productive Days For ADHD Professionals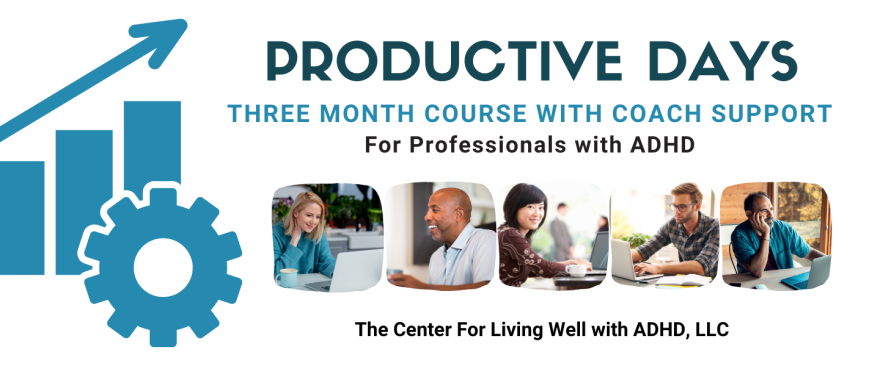 Our next group kicks off on December 12th!

Click here to learn more about the program

Diversity and Inclusion Statement: At the Center For Living Well with ADHD, LLC, our work in coaching is inclusive, diverse, and nonjudgmental. We value and celebrate you as you are. Know that we work with individuals of different races, ethnicity, gender, sexual orientation, religious affiliation, socioeconomic statuses, and educational backgrounds. Our coaching is about you! You are the expert, and you design the life you want to experience.
Disclaimer: Coaching Services are not to be used as a substitute for professional advice by legal, medical, mental health, financial, business, spiritual, or other qualified professionals. We encourage our clients to seek independent professional guidance for legal, medical, financial, business, spiritual, or other matters. All decisions and actions in these areas of support are exclusively the responsibility of the client who acknowledges that decisions and actions as a result of coaching services are their sole responsibility.